Keto Macadamia Nut Butter w/ MCT 10oz
I love this stuff!! It has a perfect little crunch of the macadamia nuts and the taste is SO GOOD!!! I love it just just by the spoonful :)" Alison H.
Our Nut Butter is the perfect blend of Macadamia Nuts, Almonds, Cashews, Coconut Butter, MCT Oil and Sea Salt.This delicious, nutrient dense fat bomb makes for the perfect keto-friendly snack. So good, you'll want to eat it straight out of the jar.
Our Ketogenic Nut Butter is packed full of high quality keto-friendly ingredients including macadamias – 'King of Nuts' – that are scientifically proven to lower blood sugar, increase weight loss, reduce inflammation and aid in achieving ketosis. Our nut butter is high in fat and contains just one net carb. Made locally in Oregon, hand ground and packaged in house, you have our 100% satisfaction guarantee.

Keto-Friendly

No Added Sugar

MCTs from Coconut
F.A.Q's
FAQs
Is this product keto friendly?
Besides as a spread, how else can I use this product?
A Delicious Fat Bomb
Our Keto Nut Butter contains 19g of fat, 5g of protein and just 3g of net carbs. It's the perfect on the go snack for the keto diet.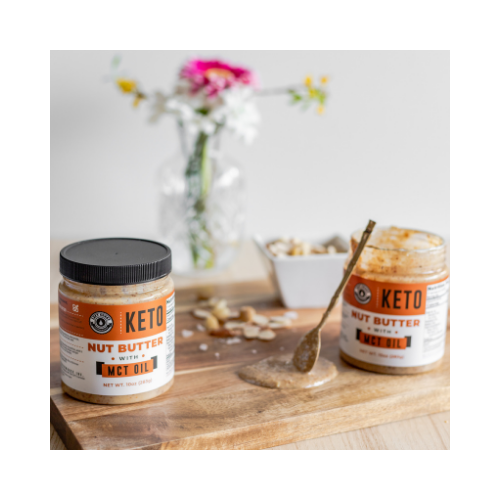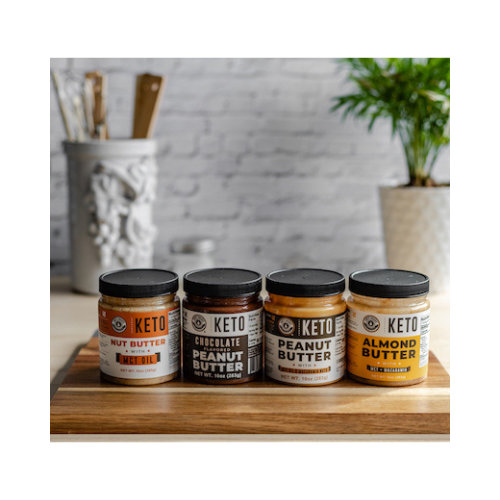 Who Said Keto Has To Be Boring?
Our nut butter is the perfect balance of sweet and salty. Zero added sugar, artifical flavors and loaded with healthy fats
Add To Yogurt, Keto-Friendly Desserts, Smoothies Or Eat It On It's Own
Our Keto Nut Butter makes adding more satiating fats to meal or snack time a snap.